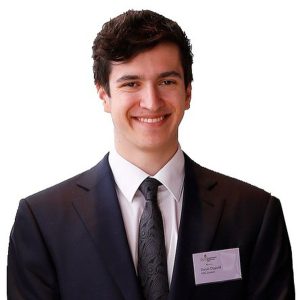 Daniel is a passionate entrepreneur, mainly focused on tech company building and establishing startup ecosystems. Currently, Daniel oversees the Kairos Society in Europe as its president, a 25M dollar fund and community of the world's most outstanding entrepreneurs who have achieved an aggregate valuation of over 10 billion Euros. Kairos Europe counts over 80 full-time and part-time workers and is supported by personalities such as Bill Clinton and Richard Branson.
Daniel has built three companies: Emoti, which measured emotional intelligence based on sound wave frequency analysis and was sold in 2017, 
www.ewor.org
– which increases Europe's innovation power by enabling entrepreneurship in risk-averse environments and
www.unlimitix.com
– which produces science-based content aimed at improving daily productivity. Emoti was sold, EWOR is profitable and Unlimitix raised a 6-figure seed round.
Furthermore, Daniel is the founder of impact driven Kairos EU Summit (
www.kairossummit.eu
), an invite-only event that gathers entrepreneurial-minded individuals, from students to Prime Ministers, to 'focus the world's smartest people on Europe's greatest challenges'. Currently, he aims at supporting the summit by launching a 10 million Euros fund to launch Europe's first virtual, decentralized accelerator.
Daniel's mission is to enable people and entrepreneurs to change the world. He founded Unlimitix and Emoti to empower individuals – and the Kairos EU Summit and EWOR to empower society as a whole. Being equipped with both business and tech skills, he combines those two realms to achieve his mission.
Daniel received his education at the University of St. Gallen and University of Cambridge, where his grade point averages consistently scored in the 99th percentile. He has furthermore received a Micro-Master's degree in Artificial Intelligence from Columbia University. He won the First Place China Award (Purple Comet Math competition) with his team amongst over 3500 participants while working for the non-profit company IBL. He's furthermore been the coach of professors, executives and students at Nigeria Impact Week, who subsequently won both the 'Train The Trainers' and 'StartUp' Competition. He appeared on national TV (such as SRF, Switzerland), was invited to share his perspectives on ethics, education and AI at TED in Boston and serves on the boards of startups and larger corporations, such as a Project Beteiligungen GmbH. He was named Top Talent Under 25 in Germany, Austria and Switzerland, Global Shaper by the World Economic Forum, STEM+ fellow and NextGen fellow by the IBL and Jury Member at the Global Startup Awards.