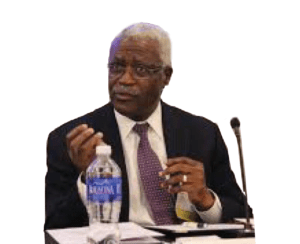 Ambassador Koomson was appointed by His Excellency Flt. Lt. Jerry Rawlings as Ghana's Ambassador to the U.S. with concurrent accreditation to Mexico and the Bahamas in October 1997. He is also an alumnus of Arkansas State University.
Prior to Ambassador Koomson's appointment, he was President and CEO of Koomson Financial, a tax accounting and management consulting firm in Los Angeles, CA and Fortune 500 companies including Beatrice Food, Transamerica Insurance and Genstar.
Former Ghanaian Ambassador to the United States Koby Koomson has worked to enhance education, trade and investment between the United States and African countries. During his term as ambassador from 1997 to 2001, U.S. investments in Ghana climbed from $67 million to more than $500 million. Koomson assisted in the passage of the African Growth and Opportunity Act signed into U.S. law by President Clinton in 2000.
He arranged a visit by Clinton to Ghana in March 1998 – the first time a sitting U.S. president visited the country. Koomson is a public speaker and he has lectured in many universities including University of Arkansas, Clinton School of Public Service, The University of Findlay, African Studies Centre, Michigan State University. He was on the board of United States Export-Import Bank and worked with different international agencies including World Bank.