Excellent Returns on Investment Opportunity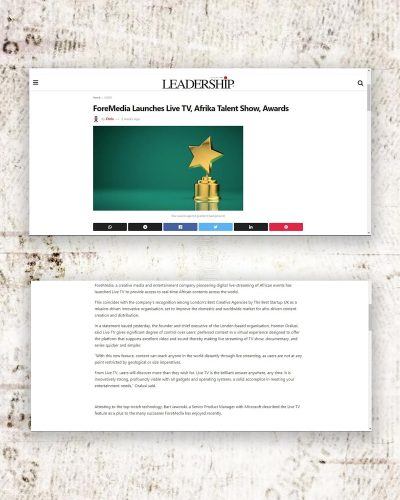 Investing in a Company With an Excellent Potential
Most people are highly dependent on the internet, & virtually every age group uses it daily. As a result of this explosive demand, investing in an ethical, pioneering global digital media company which is already up and running, is potentially a win-win situation. The ForeMedia Group is renowned for promoting diversity & bringing innovative Afro-centric new media & entertainment to a global audience via its exciting new digital media platform. Moreover, its strategy is to empower African creators and artists to learn, create, distribute & monetise their work".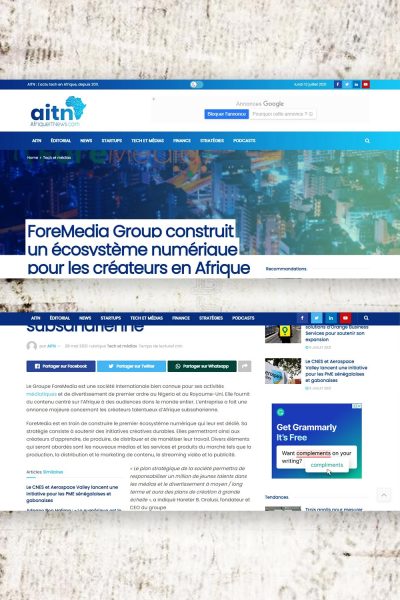 A Business Model Which All Potential Investors Can Understand
The ForeMedia Group's business model is straight forward and simple - it aligns the goals of our highly experienced founders with those of our investors. There is no doubt that due to global demand, countless seasoned investors all over the world are extremely interested in investment opportunities in digital media and digital ecosystems. Of note: "Returns on investment in some Internet companies have been in the hundreds of thousands of percentage points. [And] even during a recession, a small investment can result in a multi-million windfall. The latest examples are Mike Walsh and Oren Michaels, who earned $25 million each on a $5,000 investment in Uber".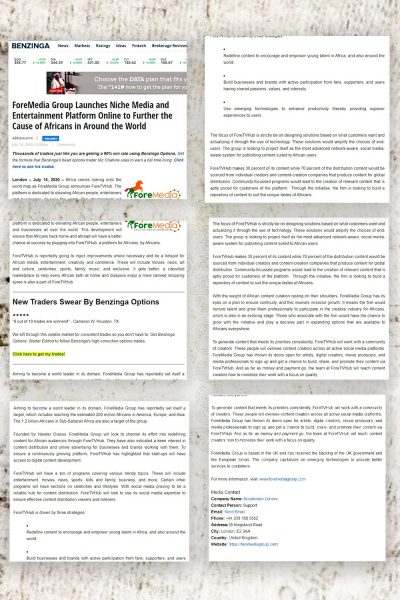 Taking Advantage of Rapid Annual Growth
Data from PwC's Entertainment & Media Outlook (2017-2021), projects that Nigeria will enjoy a rapid annual growth of 12.1%, thus making it the world's fastest-growing media and entertainment market over the upcoming years. However, due to the lack of platforms around the world which cater to African audiences, there is an urgent need for a dynamic, high capacity omni media platform. - And this is where a potentially first-class investment opportunity lies: Hareter B. Oralusi M.S., renowned visionary, serial entrepreneurial, and Founder/CEO of the ForeMedia Group, along with his associates (all of whom are noted for their expertise in business and Afro-centric media and entertainment), have already carried out substantial groundwork to make the ForeMedia Group the number one digital ecosystem in the whole of sub-Saharan Africa. Moreover, a big part of this strategy will be to promote diversity and give the innovative young an exciting reason to remain in Africa.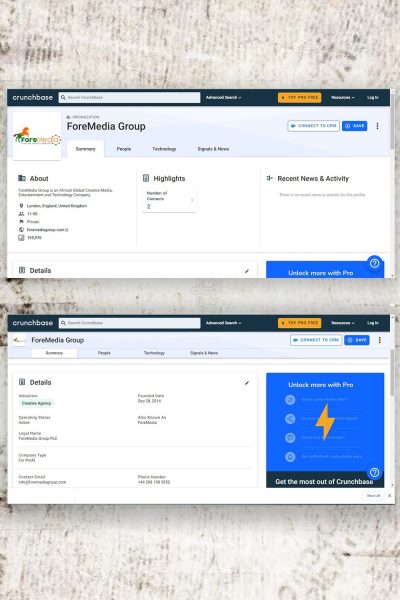 A First-Class Business Model & Strong Tech Infrastructure
Lead by Hareter, the team has an excellent business model, and an extremely robust tech infrastructure to support its omni media platform. Our platform facilitates companies and investors throughout the entire funding journey from seed to exit. In the first instance, companies onboard to a private round where they are encouraged to inject their own funds and access their own networks before we open them up to our established investor community on our platform. This strategy means that our investors and co-founding partners can invest with the assurance that our founders have already got 'skin in the game'.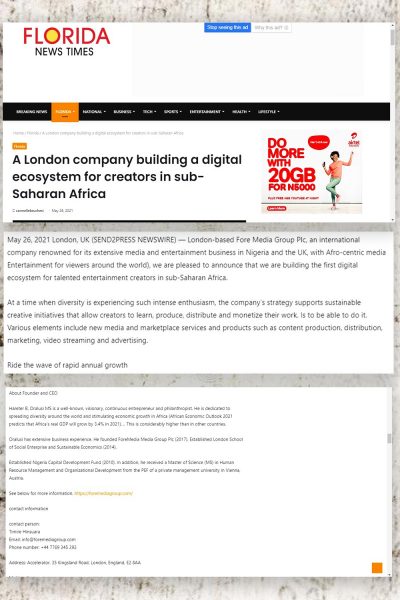 Our Commitment to Investors
Our commitment to you is that we will stay fully engaged with our investee companies and investors throughout the journey as we continue to work on follow-on funding opportunities, thereby positing our companies and investors to potentially profitable exit opportunities.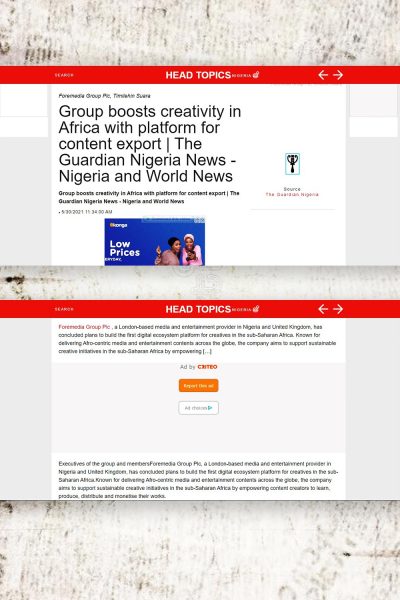 An Overview of an Exciting Market Opportunity
Over the last twenty years or so, the entertainment and media landscape has undergone a spectacular transformation which has resulted in several distinctive waves. - The first wave disrupted conventional business models and forced mainstream media into delivering a digital format. The second wave hailed in mobile computing, thus redefining how digital content is consumed; while simultaneous wave brought us social media; and platforms for user-generated content such as YouTube®, became major players in this newly formed industry landscape which empowers billions of people with a voice, and gives them the necessary tools to be a creator.
Fast forward to today, and we find that the global digital media landscape has become more diverse, more fragmented, and even more competitive. Of note, similar trends can be observed across Africa, and while there is change, it will not be as radical as it has been in more developed parts of the world just yet, however, Africa boasts a vibrant, young, and increasingly affluent population. They are equipped with late model mobile computing devices and have access to fast mobile Internet. They crave and indeed expect the same next-generation entertainment choices as the rest of the world, however, there may be one important distinction.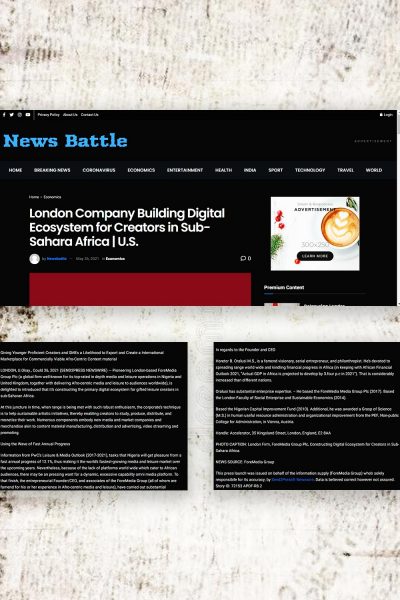 Of note, Africans tend to be deeply rooted in their culture, traditions, and homeland, hence they require entertainment which is close to their hearts and specifically relevant to them. To that end, demand for quality Afro-centric media and entertainment will not be limited to just Africa. Given the vast African populations around the world, demand will be global. Moreover, African series are now gaining a following with non-African audiences. Indeed, when writing about their research on African films and series, DW (Germany's international broadcaster and one of the most relevant and successful international media outlets), notes: "More and more African film makers are making their mark on the global stage and 2021 looks set to be another promising year for the growing sector" [5].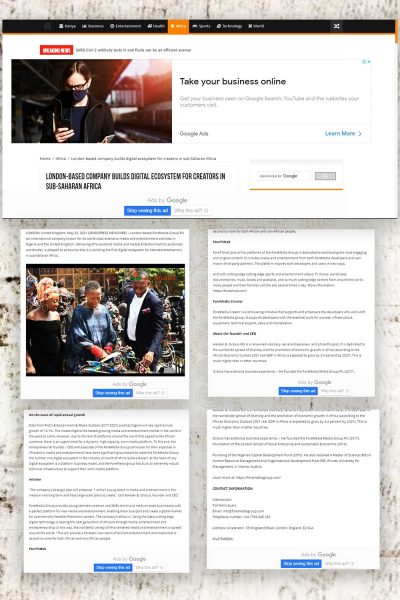 The ForeMedia Group's objective is to become the leading provider of a broad variety of Afro-centric media and entertainment all over the world. To attain this key strategic business target, we aim to embark on an ambitious growth strategy which involves creating an entire ecosystem. This will involve producing, marketing, and delivering unique quality entertainment, which is primarily geared to African audiences. Naturally, this type of ecosystem necessitates a substantial domestic footprint in Africa; so, to that end, we plan to build the required talent pools and infrastructure. These will incorporate production facilities, recording studios, and post-production capabilities, as well as office space and temporary accommodation for creators and artists. These facilities will enable the latter to produce authentic quality content across a vast range of genres. Potential locations under consideration include, but are not limited to: South Africa, Rwanda, Nigeria, and the United Kingdom.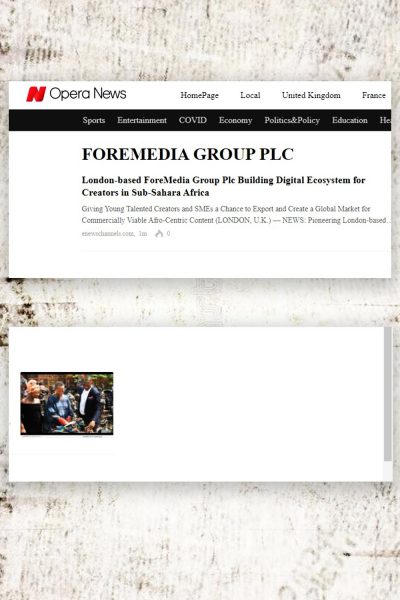 We are currently operating from leased office space located at 35 Kingsland Road, in East London. This space is deemed to be sufficient to house our registered office, senior management, business development and liaison to our production facilities in Nigeria. Further, because of Brexit being finalised in January 2021, we may decide to establish an additional office on the Continent for the purpose of broadening our footprint in Western Europe. Moreover, it will also be able to accommodate some of the overspill of required human resources that will naturally take place while our business is expanding.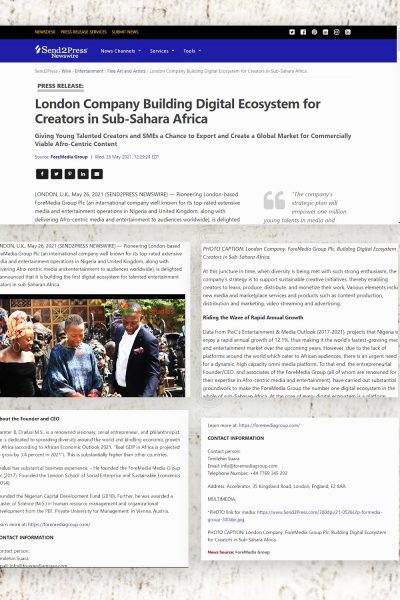 We are currently operating from a leased building located at 11A Ilaro Street, Old Bodija, Ibadan, Oyo State, Nigeria. This space is deemed to be sufficient for senior management, as well as customer facing operations. The latter include: our marketing and sales team, content acquisition, our lead designer and developers, customer support, quality control, and our production facilities. We are currently finalising arrangements to move the Creators Hub and Production Facility to Lekki, Lagos Island, Nigeria.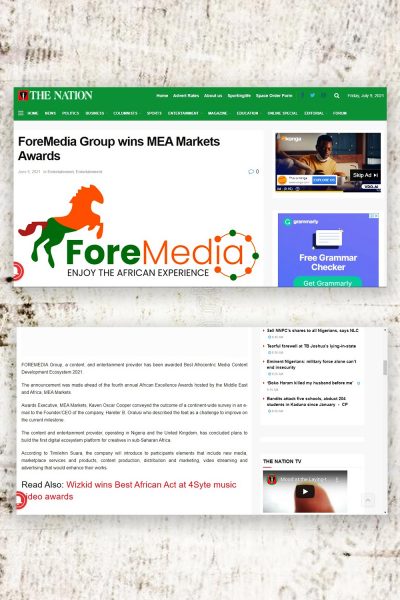 We expect to enter a market that is intensely competitive and subject to rapid change. As a new provider of Afro-centric in-home entertainment and media organisation, we expect to face competitors with more experience, larger brand name recognition, a longer track record and historic financial performance, broader mainstream entertainment choices, a larger customer base, and greater resources, including a significantly larger capital base, marketing budgets, and human resources. In addition, relationships between providers of in-home entertainment and their customers are typically fickle, where customers either maintain simultaneous relationships with multiple providers, or easily switch from one provider to another. As such, we expect to compete with filmed in-home entertainment heavyweights, such as Netflix, Amazon, YouTube, and BBC Africa, among others.
Yet despite this, we expect to be able to compete successfully because of the authentic and highly relevant first-class Afro-centric content we provide to African audiences. We believe that this will result in greater subscriber satisfaction and greater loyalty to our platform and company. Further, our subscription fees are significantly lower than those of our direct competitors; hence, we believe that maintaining a paid subscription on our platform will not keep them from pursuing alternative in-home entertainment options.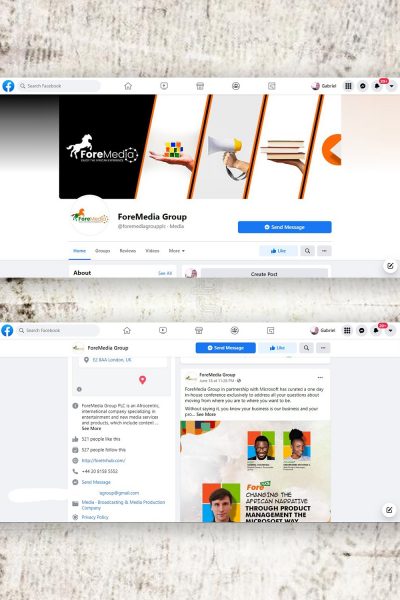 The Issuer, namely, ForeMedia Group, is widely considered to be one of the pioneers in bringing Afro-centric new media and entertainment to audiences all over the world. Since our founding, we have developed a new digital platform that enables African artists and creatives to learn, create, distribute, and monetise their work. While early initiatives focused on new media, sounds and entertainment videos, and select user-generated content; growing interest and acceptance among artists, audiences, and strategic partners, made us pursue an even larger vision, and to that end, we have built the framework for an entire ecosystem of Afro-centric entertainment and media combined into one entity.
The Media and Entertainment (M&E) industry has multiple segments that combine into one vertical: Television, Movies/Cinema, Music, Publishing, Radio, Internet, Advertising, and Gaming. Moreover, drivers and trends for each of the segments vary across sub-segments, geographies, and consumer segments. This makes the vertical unique as these sub-verticals compliment, combine and compete to fulfil the ever-increasing demand for dynamic entertainment and information around the world.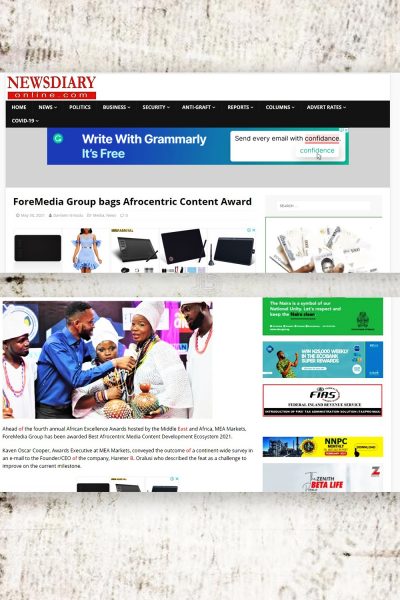 We, the Issuer, were legally incorporated on 10 December 2018, as a public company with limited liability (Company No. 11720866), under the laws of the United Kingdom. The Issuer has its registered office, as required by law, at 35 Kingsland Road, London, E2 8AA. The current status of the Company is active, and it is believed to be in material compliance with all applicable regulatory requirements.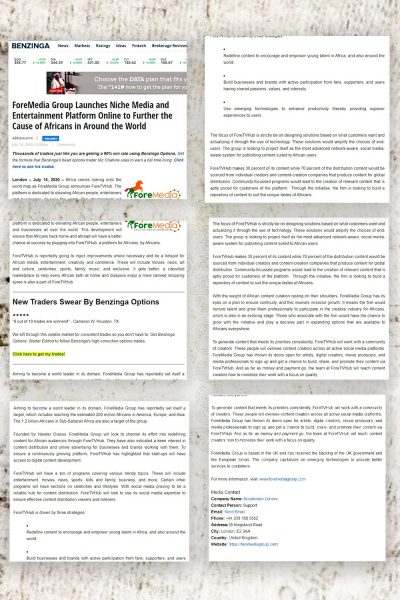 The ForeMedia Group PLC and its subsidiary companies is not a registered broker-dealer, nor an investment advisor. To that end, it does not recommend investments, or provide any legal or tax advice with respect to any securities (including those which may be shown on this website). The information on this website is not registered with any financial service authority, nor is it regulated by the security agency. By using this website/platform in any context, investors acknowledge and agree that they have read and understood the warnings and risks laid out in this Disclosure Statement. In making an investment decision, investors must rely on their own due diligence and examination of the terms of the offering; this includes the potential merits and risks involved in making the said investment.
Of note, making an investment in early-stage businesses and start-ups involves risks. These include (but are not limited to) illiquidity, lack of dividends, loss of investment and dilution. So to that end, investment should only be done only as part of a diversified portfolio; and the investor should not invest any more than they can afford to lose. The offer from the ForeMedia Group PLC is targeted exclusively at investors who are sufficiently sophisticated (Qualify Investors). This is because along with the opportunities, they also understand the potential risks, and make their own investment decisions accordingly.
You will only be able to invest via the ForeMedia Group PLC through this programme once you are registered as a sufficiently sophisticated investor. Furthermore, you must be at least 18 years of age to participate. There can be no assurance that the given valuation is accurate or in agreement with the market or industry valuations. Investing in private placements necessitates high-risk tolerance, low liquidity concerns, and long-term commitment. Investors and users should consult with licensed legal professionals and investment advisors for advice on any legal, insurance, tax, or investment advice.
Some of the marketing information which has been included in this presentation, has been prepared by the ForeMedia Group PLC. This has been based on their own estimates, judgements, assumptions, and adjustments, and has not been verified by independent third parties. To that end, information included in this presentation is, to some extent, subjective, as the material has been compiled by the company to reflect personal opinions, adjustments, and decisions. ForeMedia Group PLC does, however, believe that the assessments, adjustments, and decisions provided in this material, are reasonable, and that the provided marketing information reflects the situation of the company, the industry, and the markets in which it operates. However, at the same time, there is no assurance that the assessments, adjustments, and decisions made by the ForeMedia Group are the most appropriate basis for drawing conclusions in regard to the security and marketing information.
In the United Kingdom, according to section 85 of the Financial Services and Markets Act 2000 ("FSMA"), it is unlawful for a company to offer transferable securities (i.e., shares) to the public, unless a prospectus, approved by the Financial Conduct Authority has been prepared. Breach of section 85 is a criminal offence. Under Section 21 of FSMA, any communication which invites or induces a person to engage in investment activity is a financial promotion and, unless the communication is exempt or approved by an FCA or PRA registered firm, it is a criminal offence to make such a communication and any agreement entered in breach of this provision is unenforceable as against the other person entering into it. The investment information on this website is not registered with the FCA non-PRA, however, our approach relies solely on the statutory exemptions set out in the Financial Services and Markets Act 2000 (Financial Promotion) Order 2005 ("FPO").