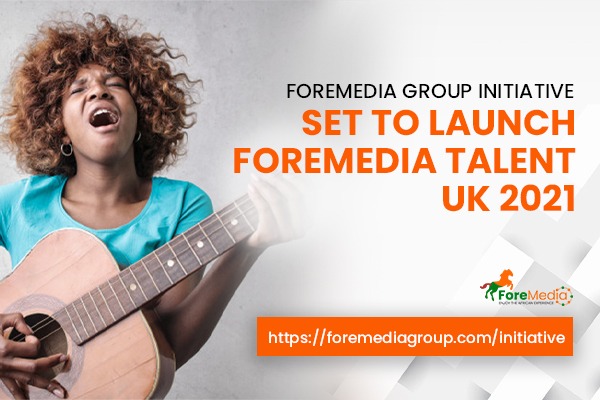 Press Release: ForeMedia Group Initiative Set To Launch ForeMedia Talent UK 2021
[London, United Kingdom]—ForeMedia Group is set to launch the ForeMedia Talent UK 2021. It is a concept that targets young black people, provides Skill Training, Entrepreneurship, and Mentorship across New Media and Entertainment sectors like Music, Movie production, Acting, Writing, TV presenting, Podcasting, Publishing, etc.
ForeMedia Initiative is registered as a Limited by Guarantee in the United Kingdom, a not for profit arm of ForeMedia Group PLC. It focuses on key issues, changing the young Africans and community for the betterment of the society.
We believe that Africa is the hub of great talents, even though a great percentage has not been discovered yet. ForeMedia Talent is our passionate empowerment initiative to provide a community-driven solution as a tool to drive societal change getting the young people to become more productive for a better and safer society.
We have recognized that the youths are the greatest assets. The youth population is rapidly growing and expected to double to over 830 million by 2050. Despite the raging growth in the population, we also realized that the majority of youths in Africa and several other continents do not have stable economic opportunities. In light of that, we have decided to launch ForeMedia Talent, a passionate idea focused at providing a community-driven solution in Africa, Europe and America through skill acquisition, entrepreneurship, and monetization initiatives. The Initiative will serve as a tool to drive societal change, getting the young people more productive for a better and safer society.
The vision of the project is to create 10,000 jobs by equipping youth to realize their full economic potential in the media and entertainment industry. The desired long-term outcome is expanded economic opportunity for both male and female black youths, which leads to improvements in other aspects of their lives.
It is opened to talented young black individuals who are interested in developing a career in the new media and entertainment sectors and are passionate about making real change.
We are keen to attract applicants who may be finishing education, those returning to work, early-stage careers in media and entertainment.
No pre-existing qualifications will be required and those already working within the sectors are also encouraged to apply.
ForeMedia Talent will connect with the community of artists, digital creators, movie producers, and media professionals to build, share, and promote content to a mostly targeted audience around the world.
Interested creators and artists will be supported to fine-tune their skills to get the most exposure and reward possible from their work. Every participant will be taught how to monetize and develop quality content to maximize their potential.
Interested persons should visit https://foremediagroup.com/initiative for guidelines on how to participate and registration process.