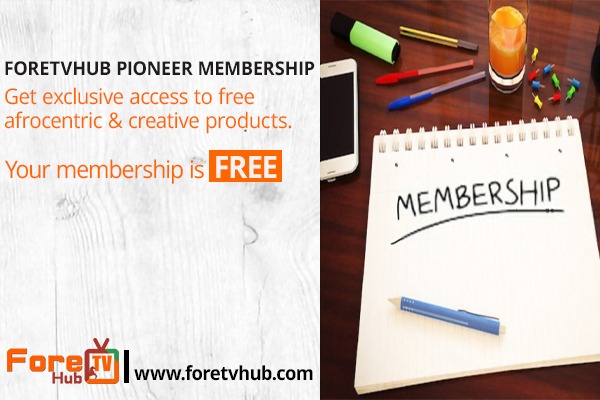 Press Release: The Making of ForeTVHub Pioneer, the Most Rewarding Membership Programme for Accessing Afrocentric Content
[London, United Kingdom]— We are pleased to inform the general public and enthusiasts of Afrocentric contents globally of the introduction of ForeTVHub Pioneers Membership. It is a membership programme that will offer unlimited access to every of ForeTVHub brands and also give members other exclusive benefits from our channel.
ForeTVHub Pioneer Membership would give you the exclusivity to access free and unlimited creative contents and Membership is absolutely free
The idea of behind the innovation of the ForeTVHub pioneer membership was built on a vision of aspiring to be the best ethical company that educates, invests, produces and distributes Afrocentric content
The membership will help you get the most out of everything that the ForeTVHub has to offer. You have exclusive benefit to news, Celebrity Updates, Songs and Podcasts.
With your membership, you can stay up to date on the newest and most popular movies and TV shows available on the ForeTVHub Enplayer, the most popular artists and songs on the ForeTVHub Sounds, the latest selection of discounted and free books and magazines on ForeTVHub Books.
The membership will be two phased, that is, membership could increase in ranks, the higher the rank, the higher the membership privileges. In the initial stage, members will begin from the ForeTVHub Ivory ranking and eventually proceed to the ForeTVHub Executive ranking. To earn the ForeTVHub Executive ranking, you must be consistently active for three months
The parent company, ForeMedia Group, recognizes the need to be informed and the dangers attached to ignorance. This has fuelled the thoughtful creation of a convenience driven platform that gets people informed and entertained with the best of Afrocentric contents.
Intending members should visit https://foretvhub.com/pioneer to start and access the opportunity.